99-year-old former MLA donated Rs 51,000 for Corona Jung, PM Modi phoned and said: Ratnabapa we miss you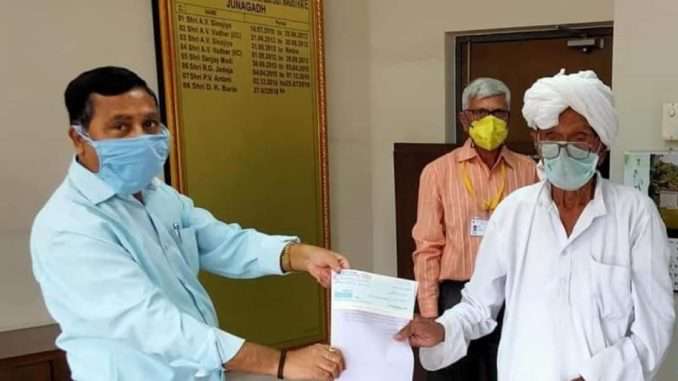 Ahmedabad / Junagadh, Apr 20 (HI) He is the only true hero to help the country in dire situation and one such hero is Ratnabapa of Bilkha in Junagadh district of Gujarat. On April 17, Ratnabhai Manjibhai Thummer, a 99-year-old former MLA from Maliya Hatti-Mendra, donated a check of 51,000 to the Chief Minister's Relief Fund in the fight against Corona. Ratnabapa had given his donation check to the Additional Collector in the CM Relief Fund. Talking about Ratnabapa's donation reached Delhi and Prime Minister Narendra Modi could not stop and spoke to Ratnabapa's son, who lives in Junagadh today.
Prime Minister Narendra Modi told former MLA Ratnabapa that you remember us? So Ratnabapa said we remember. You are fighting an epidemic today and serving the country. Modi then said, "Father, we miss you so much."
Excerpts from a conversation with Narendra Modi and Ratna Bapa
PM: Yes Father, how is your health?
Ratnabapa: My health is fine but can't hear anything, 100 years is less than a year
PM: Remember me
Ratnabapa: I miss you, we do good to the country ... We can't do anything
PM: But Ratnabapa we miss you so much.
Ratnabapa: You have to understand all the people of China, or you should break it.
PM: Father, you remember something old, I remember I used to come home.
Ratnabapa: I can't hear you speaking, talk to Dhanaji
PM: Ask Dhanjibhai Bapa I used to miss home
Dhanjibhai: You and Shankar Singh Bapu came and Bilkha remembers that often we used to sit for three hours.
PM: (Laughter) Yes
Dhanjibhai: Right now, they say that the central government and the state government are doing well everywhere. On the 17th, I was asked to leave for a check up
Minister: Yes, that's why I called, and how is your health.
Dhanjibhai: The elevator was also closed when the collector went to the office. When the cidia was gone, the collector of the collector's office said, "Let Daddy catch you, Daddy said no,"
PM: Just say my prayers to your dad, this is a special memory, so I called.
Dhanjibhai: Meanwhile, Rajubhai Dhruv and Rupala saheb came and they said, "Let's go to Delhi one day, my father said that I cannot walk."
PM: What do rich boys do?
Dhanjibhai: Boys are in different regions, one is Germany
PM: Say my best wishes to my father again.
ગુજરાતીમાં વાંચવા માટે ક્લિક કરો
The 99-year-old grandfather also worked as a MLA from Malihati-Mendora from 1975 to 1980. Ratnabapa, who lived a very simple life, did not even take his salary and as an MLA. Although a legislator, he travels on a government bus just like ordinary travelers. Giving a check of 51000 to the Additional Collector of Junagadh, Ratnabapa said, Sir, I am old and my body is not useful in fighting the crisis, but my savings are low. I give it to the country because it comes in handy. At a time when India was short of grain, then Prime Minister Lal Bahadur Shastri appealed to the people of India to stop eating once a week. Since then Ratnabapa has stopped eating every Monday, which is not a take-off till the 99-year-old.